So as we find new and affordable projects around the house to do we became aware that our air conditioner was sticking out like a sore thumb on the side of our house. We.... ok I wanted something a little nicer looking and something to protect it from the puppies. As we mentioned we now have 3 dogs. 1 older dog and 2 puppies. That being said the puppies have been busy digging around the air conditioner. See picture for reference:
So off the Lowe's we go! We went over a ton of possibilities and their corresponding prices but in the end we found these ready made fencing. See picture below:
Here is the link to lowe's if you are interested in purchasing these as well.

www.lowes.com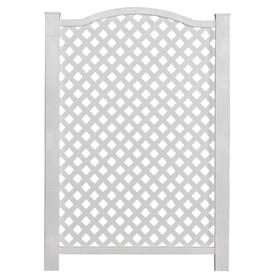 Barrette 46-in x 32-in White Vinyl Fence Panel
Item #:
41009
| Model #:
73004316
At $20 each they were a bit expensive, but when we factored in the time it would take in order to cut, sand and paint wood we sat down and admitted that we were a bit tired a lazy. It's hard with 2 kids under the age of 3 to get the time to do any type of project. Someone has to watch the kids while someone else has to do all the heavy labor around the house. So... is it d.i.y. ?.... Not really, but we did stick them in the ground ourselves :) !!!! I think that counts.